Cover to suit your lifestyle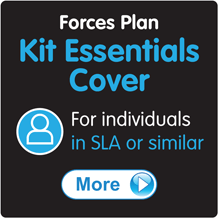 Kit Essentials
Typically for individuals or people who live away from their families in Single Living Accommodation, barracks, mess or similar.
Covers your military kit, personal belongings, clothes, gadgets, bicycles, money, room contents, liability and more.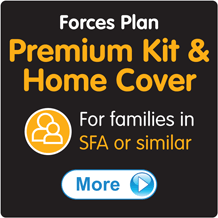 Premium Kit & Home
Typically for couples and families in Service Families Accommodation, private home or similar.
Covers your kit, home contents, personal possessions, clothes, gadgets and more for your whole family. Includes liability and family legal protection.
Not sure which policy is for you?
No problem! Your quote will automatically identify which policy is best for you, based on the answers you have given.
Cover to suit your military lifestyle
Whichever suits you best, Cherish Forces Plan is designed to give you all of the cover you're likely to need, whether based in the UK, abroad on manoeuvres or on a tour of duty.
Quickly build your perfect policy
Because no two people are the same, you can easily tailor your cover to your individual requirements. In a matter of minutes you could have your ideal cover.